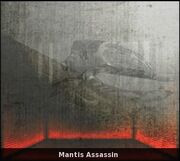 With advanced method of crypsis at its disposal, the Mantis Assassin is hard to see, let alone target and destroy. These are fast ships with a long aggression range and are equipped with a very fast firing primary weapon.
Technology
Edit
Using Aim Computers make them easier to hit.
Lowering graphics settings will make them easier to see.