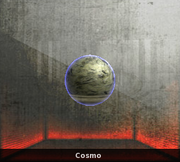 The Cosmoni were famous throughout the Mizar System and beyone as a peace loving, free living people. They had very little in terms of material wealth, believing that it was an unnecessary burden which encouraged only jealousy and conflict.
Their safety had long been ensured by their guardians, the people of Ob. But with the election of Seth Altuma, they lost not only goodwill of a friendly planet, but also their only chance of survival against the inpending Mantis attack.
Ad blocker interference detected!
Wikia is a free-to-use site that makes money from advertising. We have a modified experience for viewers using ad blockers

Wikia is not accessible if you've made further modifications. Remove the custom ad blocker rule(s) and the page will load as expected.