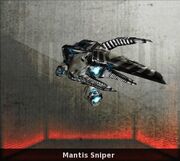 A well armed ship with a powerful Sniper Blaster at its disposal, the Mantis Sniper is a very dangerous enemy even with considering its high speed and ultra high aggression range.
Sniper Levels
45-49 found on Mars
52-54 found on Moon
62-66 found on Gazica
Technology
Edit
(Sol)
(Draconis)
Ad blocker interference detected!
Wikia is a free-to-use site that makes money from advertising. We have a modified experience for viewers using ad blockers

Wikia is not accessible if you've made further modifications. Remove the custom ad blocker rule(s) and the page will load as expected.