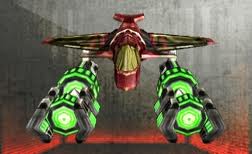 Pirate Galaxy Register Page
Description:
Fill Mantis and enemy pilots with dread as they witness the awesome power and critical damage of the Vega Vendetta Blaster. A rare weapon of mass destruction, the Vega Vendetta Blaster packs a punch.
Specifications:
20% more powerful than the Ion Storm Blaster, instead of firing small bursts, this weapon fires a large pulse wave with a higher chance of critical then convenential weapons.
Where to find it and how:
System: Vega System
Category: Blaster
Type: Rare Blueprint
Planet Found On: Aurora
Dropped by: Mantis Avenger
Rank of Mantis: 15
Rank Required to Install: 12
Cryonite Cost: 917
Energy usage per Shot: 8
Blueprints Need for Full Set: 5
Star System Normal Blueprint Best: Ion Storm Blaster