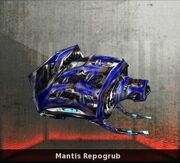 With advanced aggression sensors, the repogrub can detect attacks on Imperial spaceships and provide protection and commence repairs.
Technology
Edit
Will run if attacked or near attacked unit. It has good movment speed and will easily create a gap making it hard to hit.
Will use Protector and Repair Target on units being attacked.