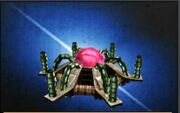 Shields are devices used by tanks and mantis to increase survivability by setting up a shield with a set amount of health to completly absorb damage. Shields tend to have a very long cooldown but last a long time as long as they aren't destroyed. A good shield greatly increases your survival chances though perforators can breach shields rendering them useless. There are a few varieties of shields that can do little miricales other than just taking hit for the user.
Blueprint
Edit
UNKNOWN(Standard Ion Shield,Impossible to find nowadays)
Enhanced Ion
Power Ion
Enhanced Power Ion
Vega Ion
Augmented Ion
Deflecting Ion
Infused Ion
Nano Skin Ion
Antares
Scattered Fusion
Hot-Electron Fusion
Plasma Fusion
Gemini
Fusion Flare
Fusion Faraday
Alpha Fusion
Fusion Force
UNKNOWN RARE
Ad blocker interference detected!
Wikia is a free-to-use site that makes money from advertising. We have a modified experience for viewers using ad blockers

Wikia is not accessible if you've made further modifications. Remove the custom ad blocker rule(s) and the page will load as expected.